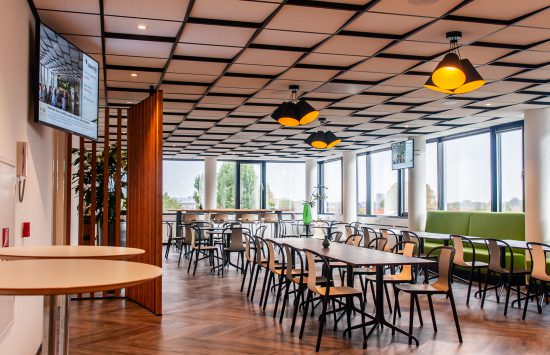 Digital signage made easy, affordable and smart
– LoopSign sets the bar for how simple, yet extensive and flexible digital signage can and should be, says Finn Arne Eikenæs in Loop24.
You've definitely seen them before. Screens hanging in the reception as you walk by, displaying the weather, time and date. In the cafeteria, showing you what's on today's menu. Or in office spaces, informing employees of upcoming meetings. Behind all these screens are software solutions for digital signage. Solutions that might be costly, time consuming to use and confusing to understand. That is what Loop24 changes, with the improved and groundbreaking solution for digital signage: LoopSign.
– Having experienced how overcomplicated digital signage can be, we wanted to create a solution which is easy to get started with, easy to use, affordable and smart – filled to the brim with useful features that most digital signage solutions don't offer. We are proud to say that LoopSign will save our users time, money and effort, explains Eikenæs.
– We wanted to make it easy to get started with LoopSign. That's why our solution is 100% cloud based. Creating displays can conveniently be done right in the web browser. Each display gets its own unique URL to be added to the screen's browser. It's as easy as that, says Eikenæs.
Landscape and portrait
The ambition behind LoopSign is to include everyone – and to cater to every need for digital signage displays. What's why LoopSign is compatible with both portrait- and landscape ratio screens with any resolution.
– While many companies and institutions have portrait screens that are tall and narrow, there aren't really that many solutions offered outside the traditional landscape ratio. For Loop24 it was a given that these, and any other screen resolutions and ratios, should be included in LoopSign, says Eikenæs.
Sign up for a 30 day free trial and get started with LoopSign here.
Timelines
Introducing a game changing feature: timelines. With the timeline feature, you have the option to automatically change your screens' content either by date or time, or however long you want it to be displayed – allowing you to create several displays on the same screen, at different times.
– The timeline feature is truly unique in the way that it allows for more efficient content creation and display management. For example, a restaurant can in just one session create menus for the whole week, having each day display a new menu, or change the menu based on the time of day. Timelines allow our users to turn their screens into dynamic displays, says Eikenæs.
Drag, drop and rescale
With the easy-to-use drag and drop function, it's easier than ever to create beautiful and stylish displays – right in your browser. Drag the widget you want to use wherever you want it displayed. Easily move it around or change its size with the cursor.
– Eliminating overcomplicated processes and options has resulted in a solution that is easy to use for everyone. From the tech-savvy millennials to the grown-ups – LoopSign is a solution made simple for each and every one, says Eikenæs.
Adaptable
Tailor your digital signs directly in your web browser to fit your company's profile. Import logos, change the background color or background image of your choice and choose a transparent background for widgets for a seamless and unique display.
– When we say LoopSign is made for everybody, we mean everybody. Our digital signage solution takes each and every need into accounting by offering many different ways in which our users can tailor and change their screens' content to suit their visual and informative profile, explains Eikenæs.
Timesaver
We get it, you don't want to spend too long on your signage displays Still, you want them to look good and streamline a professional design profile for your company. With that in mind, LoopSign is developed to be easy to get started with and easy to understand. In a matter of minutes, you can have your first signage displays up and running. No need for time consuming, inefficient solutions.
Stay in control
LoopSign is a 100 percent cloud based solution. All your signage displays can be monitored and changed from your computer, phone or tablet. Accessible right in your preferred browser. Stay in control of all your signage displays with a neat, smart and organized solution from your office, home or on the go.
Easy, functional and affordable
With its useful, unique and simple functions, LoopSign is a game changer amongst signage display solutions.
– We always wanted our solution to be easy, functional and affordable. If you're curious about LoopSign, try it out! We offer all new customers a 30 day free trial. Get started and create your digital signs in just a few seconds, says Eikenæs.