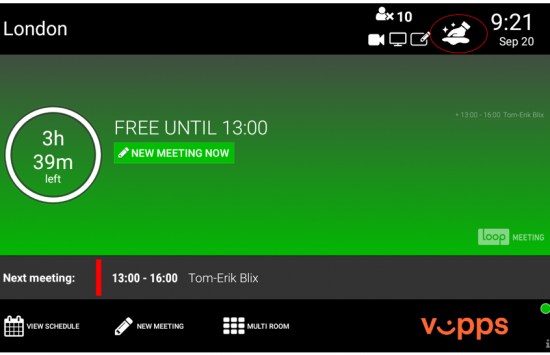 LoopMeeting Clean Room Function
New convenient "Clean room" function in LoopMeeting.
This function makes it easier for companies with strict health protocols to make sure meeting rooms are cleaned/disinfected after each meeting.
The panel can optionally be configured to automatically send notification email at the end of a meeting. The notification contains information of room name and that it needs cleaning.
The notification will be sent either if the meeting is ended by its scheduled time or if the "Stop Meeting" button is used.
When the meeting has ended, and the notification email is sent the panel will indicate that the room is ready to be cleaned. (Like shown on the figure below.)
After the room is cleaned the "clean room" indicator on the panel is removed by simply pressing and holding the finger on the icon for 5 seconds. Then the next meeting attendees will know that the room is cleaned and ready for use.
The notification email address is set in central config and can be individually set with different address for each room.