LoopMeeting panel LM1052T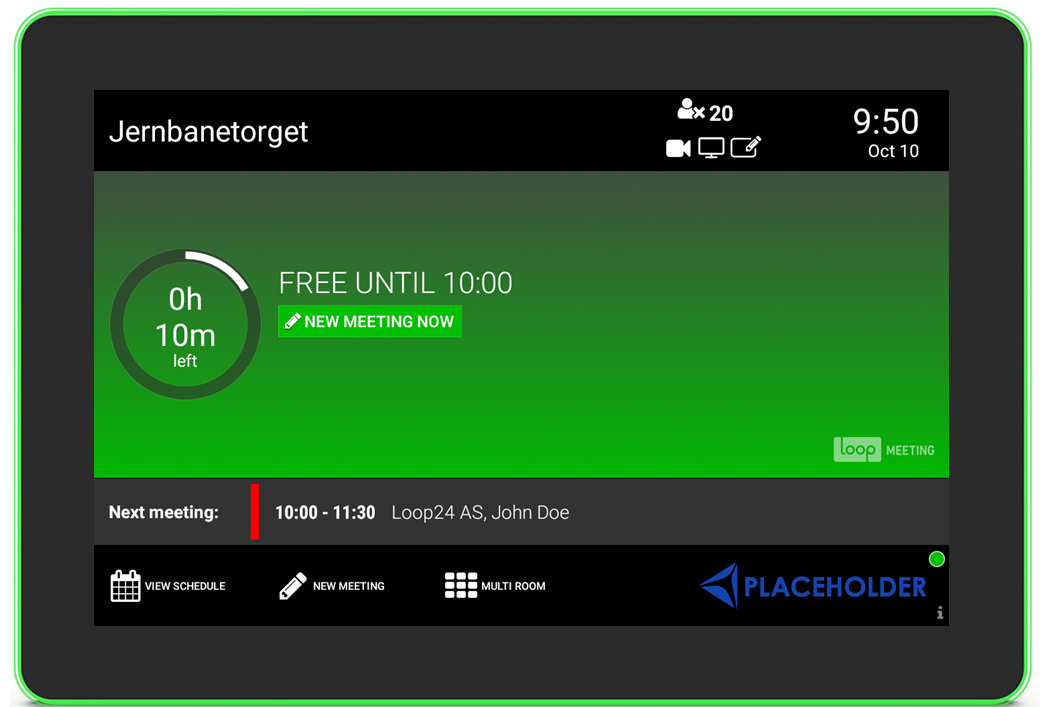 10,1-inch panel that can be mounted on a glass wall or regular wall with the mounting kit included. Touch panel and lifetime licence of LoopMeeting included. Shows meeting room availability with LED lights around the frame of the panel. Compatible with Exchange/Outlook 365, Google Suite and LoopBooking.
Function

Specification

Processor / Ram / Flash:

RK3288 Quad Core, 1,8Ghz / 2GB RAM / 16GB Flash

Require additional software:

No, communicates directly with scheduling system
– Exchange / Office365
– LoopBooking
– Google Suite

License cost:

Lifetime license included

Local Setup Mode:

Yes, directly on panel

USB Setup Mode:

Yes

Enterprise Setup Mode:

Yes, only need code and password.

Screen Size:

10,1″ LCD touch

Touch screen:

Yes, 10 point capacitive touch screen

LED Light:

Yes

Warranty:

2 years

Operation System:

Android 10 (From Des. 2021)

Time Sync:

Default Android NTP or Custom NTP

LAN POE:

Yes (IEEE802.3 AT) – 25,5 Watt average power consumption

Wifi:

Yes, 802.11b/g/n

Aspect Ratio:

16:10

Resolution:

1280×800

Contrast Ratio / Brightness:

800:1 250cd/m2

Dimentions (WxHxD):

259,36mm X 178,36mm X 28mm

Management:

With LoopMeeting Central Config

Optional external power:

Yes, shipped with unit

NFC:

Yes, 13.56MHz, ISO14443A/ISO14443B/ISO 15693/Mifare classic/Sony felica

Mounting Kit:

Wall and glass mount included

View Angle:

85/85/85/85 (L/R/U/D)
Feature

Specification

Supported scheduling services:

Exchange 2010, 2013, 2016, 2019
– Office 365
– Google Suite
– LoopBooking – (Standalone booking system)

Require additional software:

No, communicates directly with schedulig service

Custom Logo:

Yes

Custom Background picture / Theme:

Yes, picture or LoopSign digital signage

End Now / Stop current meeting:

Yes

Confirm meeting start – custom timeout for autoend meeting if not confirmed

Yes, 5, 10, 15, 20, 30 and 45 minutes or disable

Extend Meeting:

Yes

Schedule future meetings:

Yes

Room Equipment and Size:

Yes

Report room equipment failure:

Yes

Time/Date:

Yes

Book meeting on other rooms:

Yes

Show meeting status on other rooms:

Yes

Show next meeting:

Yes

Meeting room status color codes:

Yes, Green, Red and Yellow

Custom name on instant booked meetings:

Yes

Toggle enable/disable end/change/book meeting:

Yes

Language support:

English, Norwegian, Nynorsk, Swedish, Danish, Finish, German, French, Dutch, Italian, Spanish, Catalan, Portuguese, Russian, Latvian, Hungarian, Turkish, Polish, Faroe Islands

Screensaver – set working hours:

Yes

Screensaver – set working hours:

Yes

Overview screen for reception:

Yes, requires LoopSign subscription

License model:

Perpetual license – Lifetime license (If the panel hardware breaks after warrant, you can reuse the license on new panel)

Local Setup Mode:

Yes, directly on panel

USB Setup Mode

Yes

Central Setup and Management Mode:

Yes, web based console

Clean room feature

Yes, more information
https://loop24.no/loopmeeting/clean-room/
LoopMeeting Application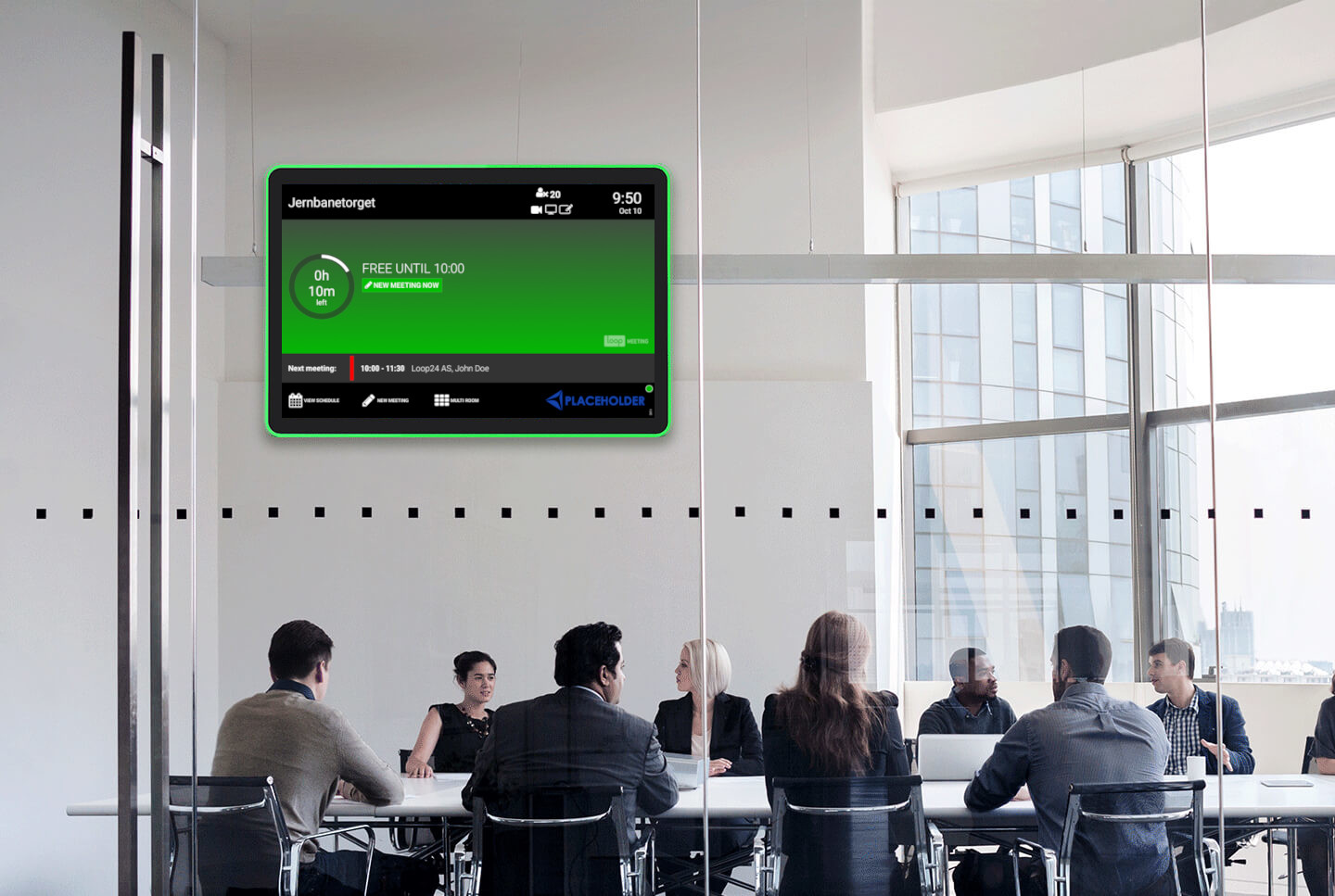 LoopMeeting is a native Android app, running on Android 6.0 or higher. The app has a easy and intuitive interface with professional look and feel. The app in combination with one of our panels makes it easy to find and book available meeting rooms. It is also easy to configure, customize and administrate. You can choose to run the app in landscape or portrait mode.
LoopMeeting application is included in every LoopMeting panel, but can be purchased as a standalone app as well.

Function

Specification

Supported scheduling services:

Exchange 2010, 2013, 2016,2019
– Office 365
– Google G Suite
– LoopBooking – (Standalone booking system) https://loopbooking.no

Require additional software:

No, communicates directly with schedulig service

Custom Logo:

Yes

Custom Background picture / Theme:

Yes, picture or LoopSign digital signage

End Now:

Yes

Confirm meeting start – custom timeout for autoend meeting if not confirmed:

Yes, 5, 10, 15, 20, 30 and 45 minutes or disable

Extend Meeting:

Yes

Schedule future meetings:

Yes

Room Equipment and Size:

Yes

Report room equipment failure:

Yes

Time/Date:

Yes

Book meeting on other rooms:

Yes

Show meeting status on other rooms:

Yes

Show next meeting:

Yes

Meeting room status color codes:

Yes, Green, Red and Yellow

Custom name on instant booked meetings:

Yes

Toggle enable/disable end/change/book meeting:

Yes

Language support:

English, Norwegian, Nynorsk, Swedish, Danish, Finish, German, French, Dutch, Italian, Spanish, Catalan, Portuguese, Russian, Latvian, Hungarian, Turkish, Polish, Faroe Islands

Screensaver – set working hours:

Yes

Portrait and Landscape mode:

Yes

Overview screen for reception:

Yes, requires LoopSign subscription

License model:

Perpetual license – Lifetime license (If the panel hardware breaks after warrant, you can reuse the license on new panel)

Local Setup Mode:

Yes, directly on panel

USB Setup Mode:

Yes

Enterprise Setup Mode:

Yes, only need code and password.

Clean room feature

Yes, more information
https://loop24.no/loopmeeting/clean-room/